Let's start off by saying how overly excited I was about this session!! When Ms. E brought in her divine lingerie from our favorites boutique in Washington D.C from Le Bustiere I squealed. Maybe not really, but I always get super giddy with excitement when clients bring that cute purple bag to the studio with their goodies. I mean once you see the images you see what I mean. The pieces are AMAZING, but not only that they really take good care of my clients.
We got to explore a few different styles with Ms. E's session. A typical session with us includes up to 4 outfits (5 outfits if you choose this bonus option). When clients book their first question always is where should I shop and what should I bring. The great news is we have several different resources that provide a TON of options for you to look through including our Pinterest board.
Up first is the bodysuit. This is by far my favorite option for clients for many reasons. If you are looking for something that is comfortable, sexy, and conceals some areas that some women prefer to conceal. You can find thousands of different cuts, styles, colors, and even sizes through a simple google search. Some of my favorite places to check out online are Playful Promises, ASOS, Mentionables, and Torrid, and Honey Birdette. If you are looking to stay within a certain budget you can also check out Shien and Amazon. They both offer a wide range of selections, but you need to pay attention to their sizing charts.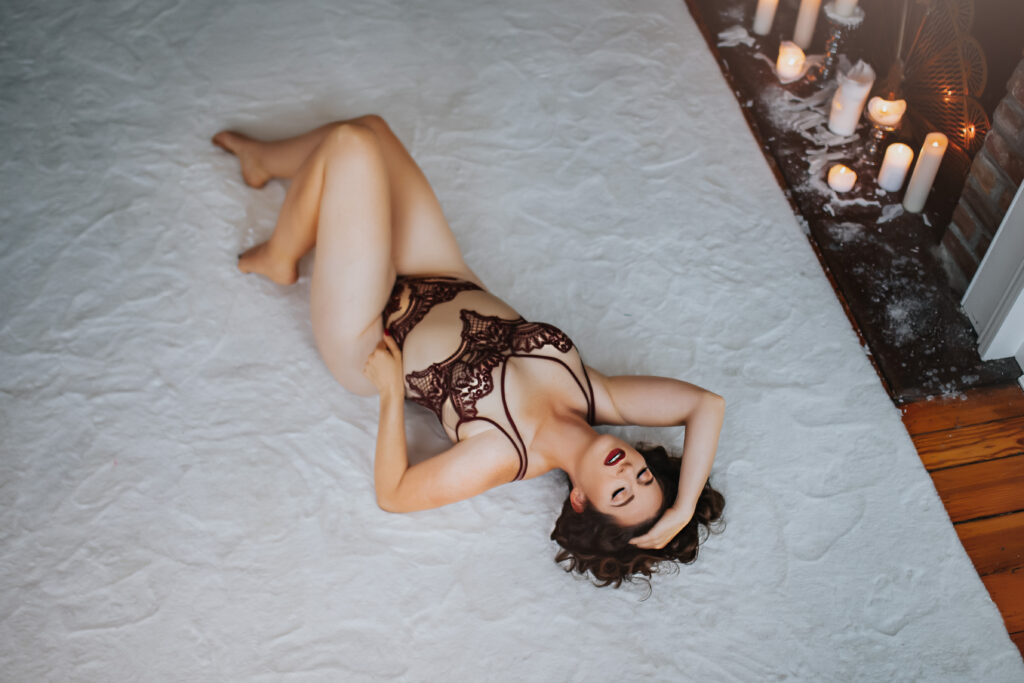 Next up is the Garter Set! This is typically paired with a bra and panty set to create a stunning and classic look for your session. What I love about a garter set is that you can be photograph with or without the garter to create different looks! Like the bodysuit you can find plenty of options from many places. Victoria's Secret is another place to consider if you are looking for a set. You can also check out Playful Promises as they are more body inclusive than some of the other places online.
©Black Lace Boudoir

©Black Lace Boudoir
©Black Lace Boudoir

©Black Lace Boudoir
©Black Lace Boudoir

©Black Lace Boudoir
©Black Lace Boudoir

©Black Lace Boudoir
©Black Lace Boudoir

©Black Lace Boudoir

©Black Lace Boudoir
Our NEWEST set is the Shower Set! It is LATEST HOT new trend right now and our clients are going crazy for a dramatic abstract kind of portrait for their session. This set is an exclusive set that is only available for clients who set up a pre-purchasing payment plan! Contact us to learn more about pre-purchasing payments.
@BLACK LACE BOUDOIR

@BLACK LACE BOUDOIR

@BLACK LACE BOUDOIR

@BLACK LACE BOUDOIR

@BLACK LACE BOUDOIR