Boudoir photography is becoming more and more popular these days! What makes boudoir photos enthralling is that in combines fine art, glamour, fashion, and standard portrait styles. The beauty of boudoir is that is provides a glimpse into the private lives of everyday people. And with that, as unique as people are, there's nearly as many unique options for boudoir photography styles.
Boudoir Photography Styles
When you decide to book a boudoir photography session, you'll want to start the process of deciding what style of boudoir photo shoot you'd like. There's so many styles of boudoir, having an idea as to your preference will help you and your photographer cultivate an unforgettable experience. With that said, let's dive into some of the most popular boudoir styles to help inspire you!
Pin-Up Girl
The pin-up girl style is unique, popular, and has its roots in recent history. Pin-up girls are meant to be sexy and scandalous, yet the style typically involves more clothes than traditional boudoir styles, leaving more to the imagination. To create a classic pin-up girl style for your session, wear your favorite button-down top and tie a knot at the bottom, revealing a little tummy. Pair your tied-up shirt with a pair of short shorts and high heels and you're almost there! To complete the pin-up girl look, you'll want to make sure your boudoir photographer offers professional hair and make up, as the pin-up style is as reliant on hair and make up as it is clothes and pose.
Dramatic Boudoir
Dramatic Boudoir, also known as low-key boudoir, is a style of boudoir photography in which the photography showcases their subject without any distractions. What this means is that dramatic boudoir photography is simple in nature; the subject of the photo shoot will often times be in low light, and the background will be a solid color. As one expert puts it, "highlights and shadows, you have to have BOTH."
Luminous Boudoir
Nearly the exact opposite of dramatic boudoir, luminous boudoir, or hi-key boudoir, is a style of boudoir photography that is almost entirely very bright with very little or no dark shadows present. Luminous boudoir is popular in outdoor settings, and is intended to create a playful mood. Luminous boudoir photography is also commonly associated with wedding, or bridal boudoir photography.
Elegant Boudoir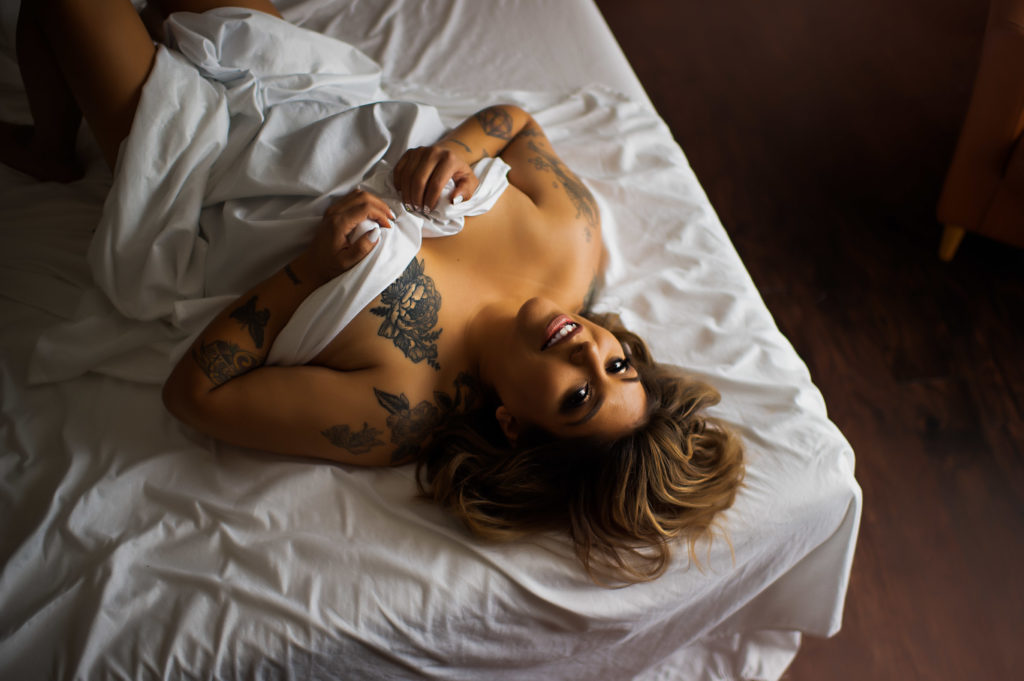 An elegant boudoir photo shoot can be sexy, beautiful, charming, and sophisticated all rolled into one. Elegant boudoir is one of the most versatile styles of boudoir photography. For these types of photos, we recommend a more natural make up, light curls, and even more clothing can be used to create a gorgeous look. Elegant boudoir photos are often displayed in black and white, creating a softer, more graceful feel. For elegant boudoir photos, you can choose to wear a button down, a robe, sweater, or something that exposes your tummy. A favorite elegant look is to wrap yourself up in bed sheets that is tasteful, yet extremely sexy. Additionally, elegant boudoir can be done topless while being tasteful if done in the right pose, lighting and look.
Playful Boudoir
The entire purpose of a boudoir photography session is to be playful and empowering. Playful boudoir style, however, is a style in which props and playful outfits are used. For example, planning on giving your significant other your boudoir photos for Christmas? Maybe bring a Santa hat along with some sexy Mrs. Claus lingerie, or an "ugly" Christmas sweater, or even some fun panties with "naughty" printed across the backside! Playful boudoir does not have to be seasonal either; you can get playful and silly with colorful socks, oversized hoodies, or even some of your partner's clothes or favorite items (i.e. if their favorite hobby is golf, bring a few irons). Remember, you are in control of what your boudoir photo shoot ends up looking like, so have fun!
Bridal Boudoir
Many women choose bridal boudoir photography as either a wedding or anniversary gift. These photos are often sensual and private, and make a wonderful gift any time of year for your spouse. Typically, the subject wears provocative clothing, usually lingerie, and poses in a sensual manner. Often times the setting of a bridal boudoir shoot is either a studio or an indoor setting that is luxurious. If you have an upcoming wedding or anniversary, bridal boudoir style photos are a one-of-a-kind gift!
Schedule Your Boudoir Session Today
As you can see, there's no shortage of style nor inspiration when deciding on how you'll approach your boudoir photo shoot. At Black Lace Boudoir, Washington D.C. and Northern Virginia's premier boudoir photography studio, we make your vision come to life. Contact us today to schedule your photo shoot today or learn more by reading our boudoir FAQ section. We can't wait to see you!